We prepared an updated version of this article for 2023. Check it out!
Cloud storage has become a more complicated area, with many providers joining the fray. It can be challenging to research all of the options and find the right provider for you.
Many people end up choosing one of the big names: S3, Google Drive, and Dropbox. This is what we've done: we have looked at many of the options and put together 8 of the cloud storage providers to choose from in 2022.
But before we move forward to the comparison, let's understand a bit of cloud storage, its benefits & how it's the complete solution for data redundancy.
Table of Contents
What is Cloud Storage?
Cloud storage allows you to store data on remote servers that can be accessed via the internet or the cloud. Users pay a monthly or per-use consumption rate to remotely access, manage, and back up the data.
Cloud storage is a data center with large computer servers that store data and make it accessible online via the internet. Remote users can upload and store their data and then retrieve it as needed. Cloud makes it possible to store and retrieve data remotely from any location.
How Does Cloud Storage Work?
Cloud storage works simple and straightforward. Cloud storage stores information in any data center around the globe and is maintained by a third party. Because the data is hosted on servers, it can be accessed via a web interface.
Cloud storage is a network of servers that includes a master control server and other storage servers. All the servers are linked together and can be used depending on your requirements and usage. Cloud storage is a great way to save money. Otherwise, you'd have to invest in more powerful servers as your business grows. Cloud storage is a cost-effective way to store your data.
Cloud storage supports many file types of all sizes. This allows you to upload important documents, videos, photos, and music. After signing up for cloud storage, upload your files and sync with your smartphone, tablet, or another mobile device for quick access.
Cloud storage solutions are unique because you can upload files and download them anywhere in the world, even without your laptop. All you need is internet access and a mobile device to download the app from your service provider. Log in to your account to upload or download files.
Benefits of Cloud Storage
Here are some of the benefits of using cloud storage.
1Accessibility & Usability
All cloud services have an intuitive user interface that allows you to drag and drop. You can think of iDrive from Apple or Google drive from Google. Both have an easy interface that allows you to upload files directly to your online drive with ease.
Cost-Effective
The cloud storage service is the best option for businesses; the online storage of data allows the company to reduce the costs of internal resources. The cloud storage vendor manages all the data, and the company does not have to do any of the management or support. Some of the cloud storage services provide cloud storage for a lifetime at an affordable price. This is a win-win deal for both small businesses and individuals.
Ease in File Sharing
Each cloud storage service offers file-sharing capabilities that allow you to share files with other users. You can send a file to another person or invite multiple people to view your data. Most vendors offer a cloud environment where two users can share data. However, there are a few service providers that provide cross-platform file sharing.
Security
Safety is the most important thing when it comes to the internet. This is why both large and small businesses use cloud storage services. Businesses must know what level of security the cloud storage service providers offer and get the best security.
Cloud storage stores your data across redundant servers. This means that even if one data center is down, the other data centers will manage your data, making your data secure and monitored.
Synchronization
Every storage vendor offers the sync function. You can sync your cloud storage data with any device using synchronization. It's possible that you can access your data from any device, anywhere in the world; however, synchronization is required to make this possible. You can access all your data stored in the cloud storage by logging in with your credentials and making good use of your data anytime, anywhere.
Automation
Cloud storage is like a hard drive on your computer that allows you to store any file you wish in the cloud. Multiple users can use cloud storage services. The current task of one user will not affect another's, as all tasks are managed and automated through the cloud vendor.
Disaster Data Recovery
Every company has backup storage that stores all of its data. They can access their backup storage in case of a data loss or collapse. Cloud storage is the best way to solve this problem and the best option to deal with disaster data recovery.
Drawbacks of Cloud Storage
Cloud storage has its negatives. However, they are not as severe as you might think. So here are some of them.
Internet Connection
You must be connected to the internet to use the cloud. Although you can sync files offline to access them, accessing the cloud requires an internet connection for sure. Also, if there is a connection problem, then your data might get corrupted while downloading.
Cost for Extra Storage
Cloud storage plans are mainly designed for business purposes, and hence they are expensive. Once you use all the storage limits, you might have to pay for extra storage space that can cost a lot.
Data Security & Privacy
Many cloud storage providers lack privacy and data security fields. There are also many instances where data from cloud storage is leaked that makes things worse. So it's essential to choose the cloud storage provider with the best data security in place.
How Has Cloud Storage Become A Great Solution For Data Redundancy?
Cloud storage is a growing option for data protection. Many companies will take extra precautions to ensure they have data backups on their local servers and user computers. Information technology professionals recommend that backups be kept in case of network or hard drive failure. While this is a good practice, many companies fail to realize that they might not be able to access their data in the case of a disaster such as a flood or fire. Data backups are useless if they are not stored in the same physical place as the original data.
Since the inception of IT, data redundancy has been a buzzword. However, cloud storage technology has made it easier for any organization to use. Cloud storage allows companies to store and archive important documents, critical databases, and allow off-site backups.
Companies are starting to recognize the benefits of cloud-based backups and recovery (often called "BURR"). A survey showed that 16 percent of businesses that suffered data loss used cloud-based backup solutions. Cloud storage is an excellent alternative to tape or disk-based backups. Companies can quickly retrieve lost data using tools provided by their cloud service provider.
Users may also experience fewer operational difficulties and lower total costs of ownership due to redundancy. Cloud backup services can automatically duplicate essential files without any human interaction. Backups of data are not required to be replaced or maintained. This makes it safer and more secure for staff and also makes backups more manageable.
It is essential to have a backup plan to ensure data availability in case of system failures and other unforeseen circumstances. Although tape drives and legacy hard drives can be effective, cloud-based backups have many benefits and offer a reliable and safe data solution for data redundancy.
Best Cloud Storage Providers in 2022
Cloud storage best for personal and business data allows users to store, share securely, and even backup their critical data. Cloud storage has substantial advantages in today's working environment. This is despite ongoing debates about local storage vs. cloud storage.
Our recommendation ensures that your service provider offers the storage capacity you need, high-level security, professional customer support, and the best possible price.
Here we have listed a few providers for your ease of choice as per your requirement.
1. Amazon S3, Infrequent Access, Glacier
Amazon Simple Storage Service (or Amazon S3) provides object storage to businesses. It offers affordable and scalable online storage.
AWS is the most popular infrastructure-as-a-service (IaaS) provider today. It offers web hosting, cloud computing, and development services all in one package. Amazon S3 is an essential part of this because it stores all files your company requires to create content in AWS.

Although it is called Simple Storage Service, the pricing model for this service is complex. The company offers four main plans. Prices can rise if you exceed certain storage thresholds, depending on which plan you choose. There are 23 regions where prices can vary.
Amazon S3 is just like many IaaS options. You are charged when you store a file and when you use it. There may be API call fees in some cases.
2. Wasabi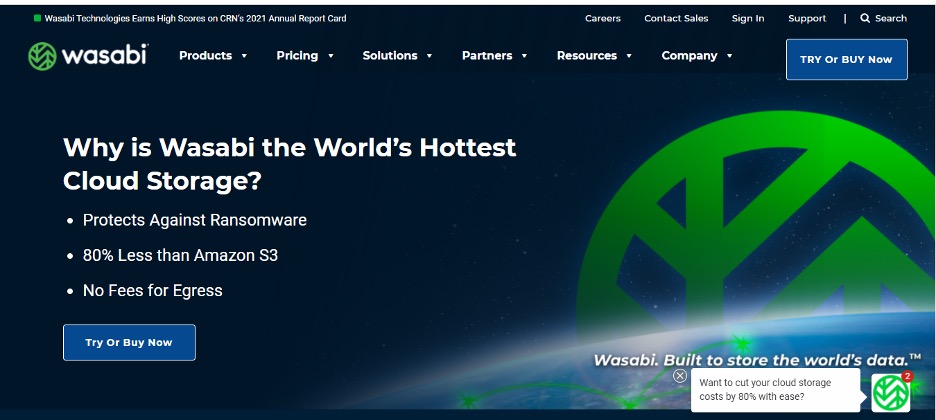 Pricing: $5.99 Per TB Per Month
Wasabi Hot Cloud Storage, an enterprise-class bit-bucket storage service that is tier-free and compatible with Amazon's S3 cloud storage solution, is comparable to Amazon S3. Wasabi Hot Cloud Storage charges $5.99 per terabyte per month for 1 TB storage. This is based on $.0059 gigabyte, or GB, per month. Your monthly charge for less than 1TB of storage will be $5.99.
3. Backblaze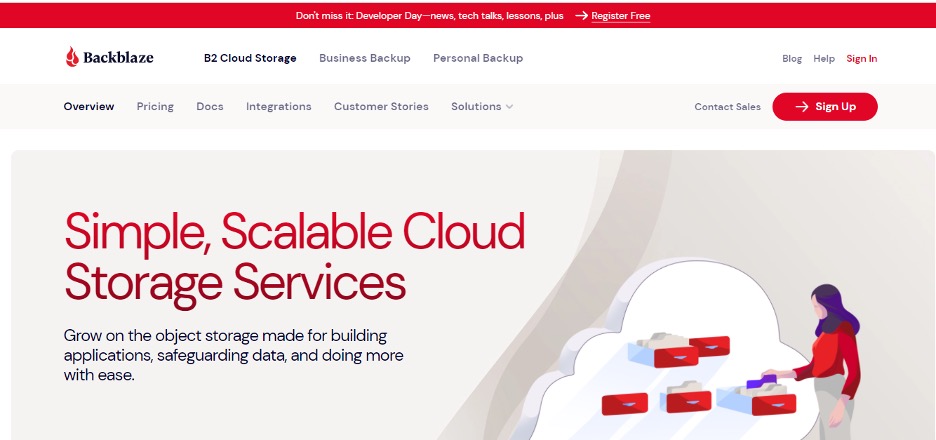 Pricing: $60/Year - Unlimited Backup
Backblaze is a cost-effective option for those who only have one computer. Backblaze costs $60 per year and provides unlimited cloud backup storage for one PC. The service can also be purchased for $110 every two years. Backblaze does not offer a permanent, free account level like IDrive, but you can have a 15-day trial.
4. DigitalOcean Spaces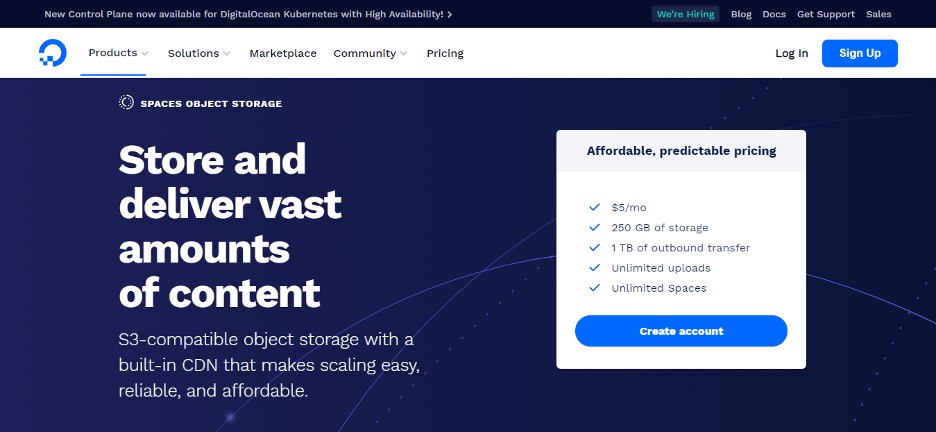 Pricing: Starting from$5/Month
DigitalOcean Spaces is an S3-compatible object storage service that allows users to store and serve large amounts of data. It uses the concept of buckets, where each bucket is a Space that users can store and serve files. Spaces also provides users with a free built-in CDN which minimizes page load times, improves performance, and reduces bandwidth and infrastructure costs.
5. Dropbox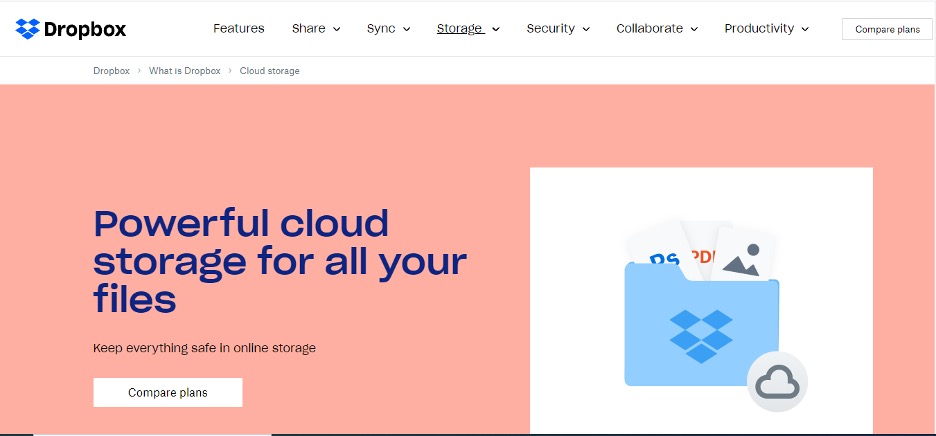 Pricing: Starting from $10/Month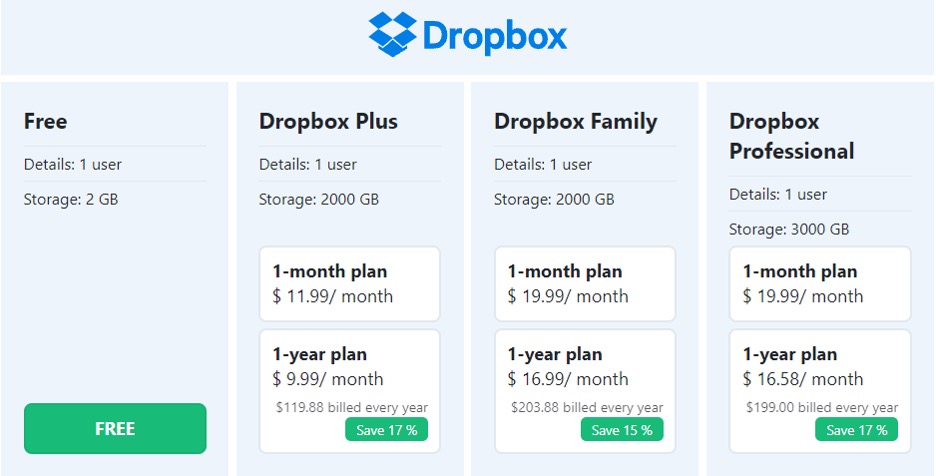 Dropbox cloud storage offers three personal plans-- Basic, Plus, and Family and three business plans-- Professional, Standard, and Advanced. Like many cloud storage providers, Dropbox offers a basic plan that provides 2GB storage and limited features. If you opt to be billed annually, you will save money on all paid plans.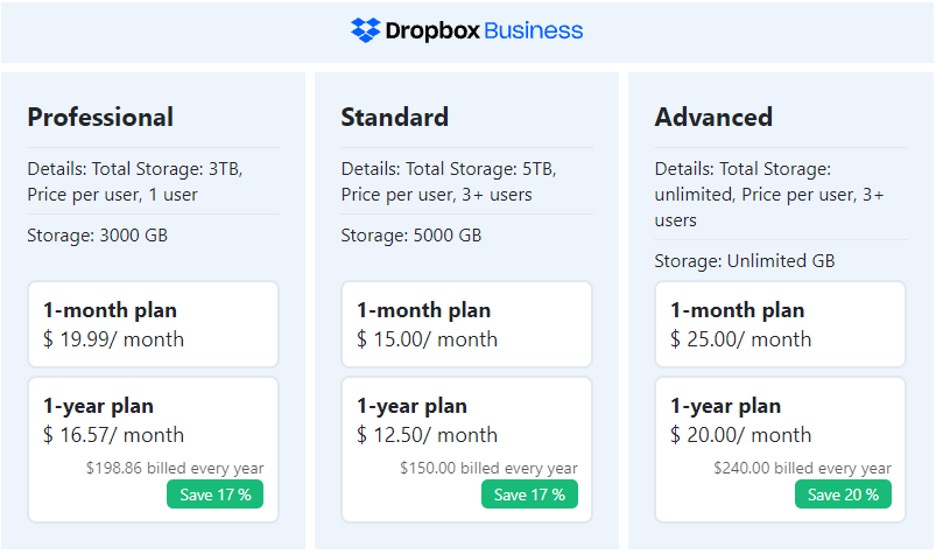 6. Google Cloud Storage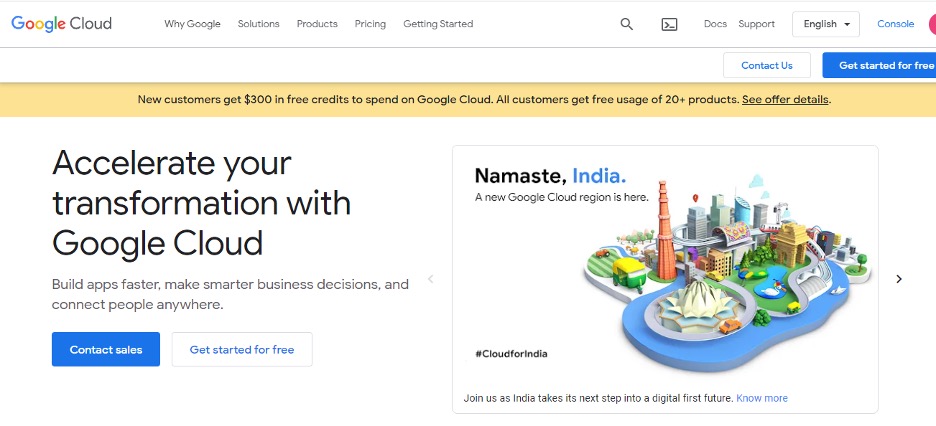 Google Cloud Storage pricing includes a flat storage rate and a network usage rate. Project storage usage and bandwidth consumption are expressed in gigabytes, i.e., 1 GB equals two 30bytes.
Google Cloud Storage charges you for bandwidth and storage usage each day, but they only bill you at the end of the month. Unbilled monthly usage can be viewed in the Billing menu for your project in the Google Development Console.
7. Filebase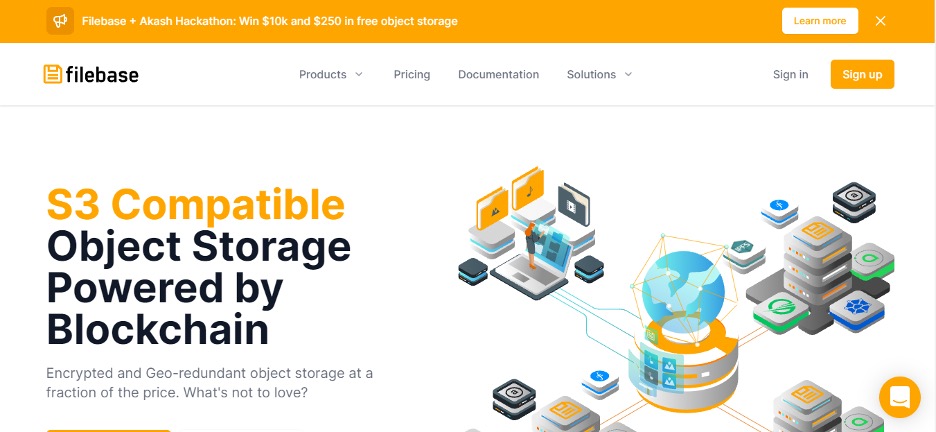 Pricing: Starting from $5/Month
Filebase is a unique cloud storage tool that can be accessed anywhere. It's S3 compatible and claims to deliver object storage capabilities.
The file base tool is protected with Blockchain technology. This makes it immutable. On the other hand, smart contracts ensure that files are encrypted and replicated around the world for maximum privacy and redundancy.
Filebase allows users to store all of their worlds on Filebase, ensuring the highest performance and availability.
Filebase charges a monthly optimal fee to store 1TB of data, compared to Amazon S3.
8. Azure Blob Storage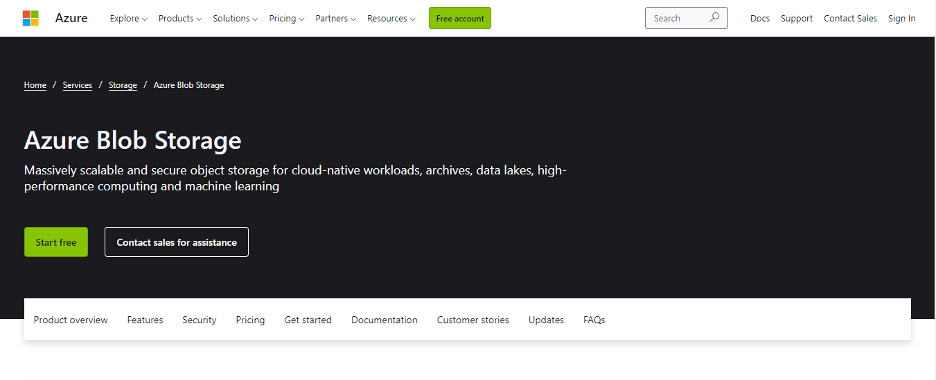 Pricing: Starting from $0.00099
Azure blob storage is highly scalable object storage that is both secure and extensible for cloud-native workloads. Azure Blob Storage allows you to create data lakes for your analytics and storage to build mobile and cloud-native apps. Tiered storage reduces costs and allows you to scale up for machine learning and high-performance computing workloads. Blob storage was designed from the ground up for developers of mobile, web, and cloud-native applications. It supports the security and availability requirements.
Blob storage supports the major development frameworks like Java,.NET, and Python. It is also the only cloud storage service to offer a premium SSD-based object storage tier that can be used for interactive and low-latency scenarios.
Data Egress
Egress is a common term that refers to data being transferred from a network to another location. Data egress can be considered network activity, but it poses a threat to organizations if sensitive data is exposed to unintended or unauthorized recipients.
Egress takes place when data leaves an organization's network. This could be via email messages, uploads to the cloud, websites, file transfers onto removable media such as USB drives, external hard drives, via File Transfer Protocol, or Hypertext Transfer Protocol transfers.
Egress filtering allows organizations to monitor traffic and detect suspicious or malicious activity. This allows businesses to limit and block high-volume data transfers and prevent sensitive data from being transferred outside corporate networks.
Data Ingress
Ingress traffic originates from a public Internet Protocol address and goes to a private network. It is not an answer to an internal network request, contrary to what it might be defined as within a private network. So requests for ingress traffic unless it contains a configuration that would allow access.
Ingress traffic filtering is a security measure that protects against cyber threats like distributed denial of service (DDoS), attacks using IP spoofing. Cyberattacks that use IP spoofing can cause system crashes or impede cloud services' performance.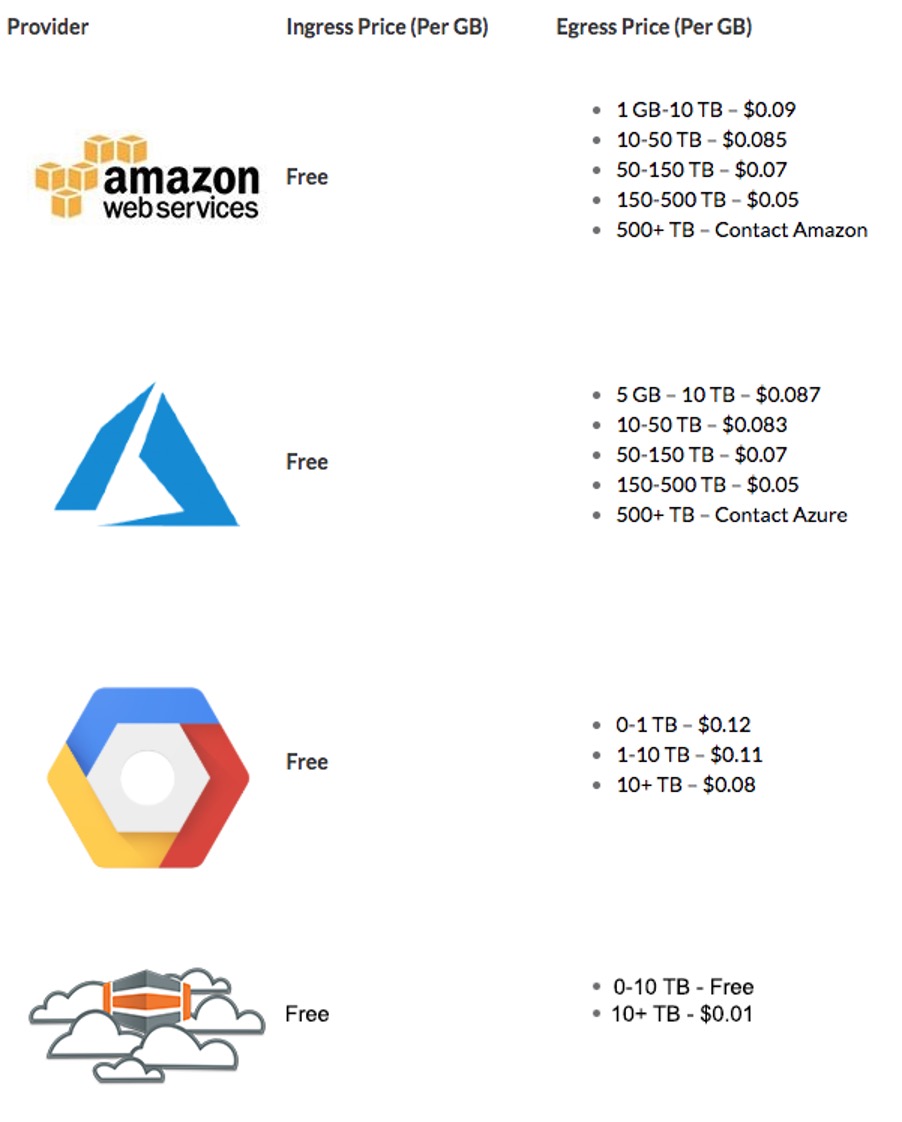 What are the Data Ingress & Data Egress Charges?
It is usually very affordable to move data to the cloud. Although, Infrastructure and operations (I&O) leaders tend to forget about the high costs resulting from data movement within and between clouds.
Data egress is the process of transferring data from the cloud. This is also known as "data transfer out." All cloud providers charge data egress fees. Data egress costs in gigabytes per month transferred "out" from a particular system or cloud service.
Data egress fees are one of the most hidden costs in the cloud, and they can be devastating for small businesses and large enterprises. They tend to cost thousands of dollars each year.
Most cloud providers will allow you to input your data free of charge (ingress) but charge you hefty network fees to move it elsewhere (egress).
Data removal from the cloud can often require a large data transfer. Cloud providers usually charge between 5 to 20 cents per gigabyte for each data transfer from their cloud storage location to your on-premises location. Although this isn't a problem for the average cloud user, it can be quite costly for large businesses that move terabytes to and from AWS.
Let's take a look at the cloud providers that provide domestic data egress per calendar month.
It's not much if you are transferring things on a low level. Imagine that you want to transfer 25 TB of data from your location to a client, partner, or consultant. Now you are looking at $2500 per TRANSFER in fees that may or may not be known. This is just domestic. If you transfer this data internationally, the cost will be significantly higher.
Cloudflare recently Announced R2 storage S3-compatible service that stores large data volumes with no egress bandwidth charges. To facilitate integration or transition of existing AWS deployments, automatic migration of objects between Amazon S3 and Cloudflare R2 will be offered.
How Safe Is Cloud Storage?
You might wonder if your data will be safe if it is stored in the cloud infrastructure. Your files, photos, and videos are stored on servers that you do not control. These servers could be vulnerable to cyberthieves, you might think.
But here's the truth: Cloud service providers' data may be more secure than information on your hard drive. Hackers can use malware or phishing emails to steal your data and may try to freeze your computer and demand a ransom to unlock the files and data they have frozen.
Larger companies that offer cloud services will likely use more robust security measures than those you have for your computer and devices.
So What Makes Cloud Security Robust?
Why is cloud storage so secure? First, cloud storage servers are often located in warehouses that workers do not have access to. The files on cloud servers are encrypted. It means that the files are encrypted and scrambled, which makes it much harder for cybercriminals.
Here are some security measures cloud providers use to protect your data.
Regular Security Updates
Cloud storage means that the security measures should be regularly updated by the companies responsible for monitoring the servers. It won't matter if you forget to update. Your cloud service provider will update its security procedures regularly.
Use of AI Programs
Cloud providers are turning to artificial intelligence (or AI) to protect your data. This is crucial: It can be difficult to find security experts who are qualified to supervise data. Instead, cloud providers can use AI to address at least the initial level of security analysis. These programs use built-in algorithms for identifying and detecting security vulnerabilities.
Built-in Firewalls
Firewalls can be either software- or hardware-based and apply rules to all traffic that enters a network. These rules are used to filter out suspicious traffic and keep your data behind the firewall. Hackers will find it harder to get malware or viruses through the security features of your cloud service provider.
Data Redundancy
Redundancy is a common practice among cloud providers. They will copy your data multiple times and store them in many data centers. You can access your files from another server in case one goes down. This protects your data from power outages, hardware failures, or large-scale unfortunate disasters.
Summary
The best cloud storage solution for your company requires you to look for reliable and secure systems that will protect your data at all times. STaas products offer enhanced cloud sync and collaboration features that allow seamless digital workflows and increased employee cooperation.
You should also be aware of the powerful administrative features available, including access management, system auditing, and 2FA. These are especially important for medium- to large-sized companies.
Moreover, you can go through the above guide to find a suitable cloud storage option for yourself.