Where do you store your important files, documents, media, and the like? Nowadays, you could use cloud storage for this. Maybe you're using on-site storage? Either way, have you considered what will happen to all your documents, files, and media if something should go wrong? If you don't take the necessary precautions, this could be disastrous.  
This is where storage replication comes in. It's an efficient, effective, and safe way for you to ensure that you always have important documents and files available, no matter what happens. Moreover, if disaster should strike, it will also be easy for anyone who needs these files and documents to find them.  
With that in mind, let's look at how you can create a storage replication with SimpleBackups. 
Why is Storage Replication Important?
There are actually quite a few benefits of storage replication, including: 
Data availability. By replicating your data, files, and documents, you'll store it across several locations. You'll thus ensure that you always have access to your data, even if you experience technical difficulties or failures. As such, no matter what happens, your users, employees, and applications will always have access to the data they need. As a result, you'll improve the reliability and resilience of your systems. 
Eliminates human error. When working with files and documents, your team will mostly do this manually. And doing things manually could introduce errors. For example, someone might work on a document and file in one storage and forget to save it. Even worse, someone could delete the file altogether. Storage replication prevents this. 
Storage migration. When you want to migrate your storage from one provider to another, storage replication offers a simple and efficient way to do this without needing to do it manually. 
Improved disaster recovery. Nowadays, data breaches and loss are increasingly common occurrences. Fortunately, storage replication allows you to keep a complete copy of your data in several locations, which means it can help you recover lost data in the event a breach or loss occurs. 
Creating a Storage Replication With SimpleBackups
Now that we've seen why storage replication is important, let's create a storage replication with SimpleBackups.
In this example, we'll sync the bucket content from DigitalOcean Spaces to AWS S3 storage.
To start, you'll log into your SimpleBackups account. On your dashboard, you'll click on Storage Sync.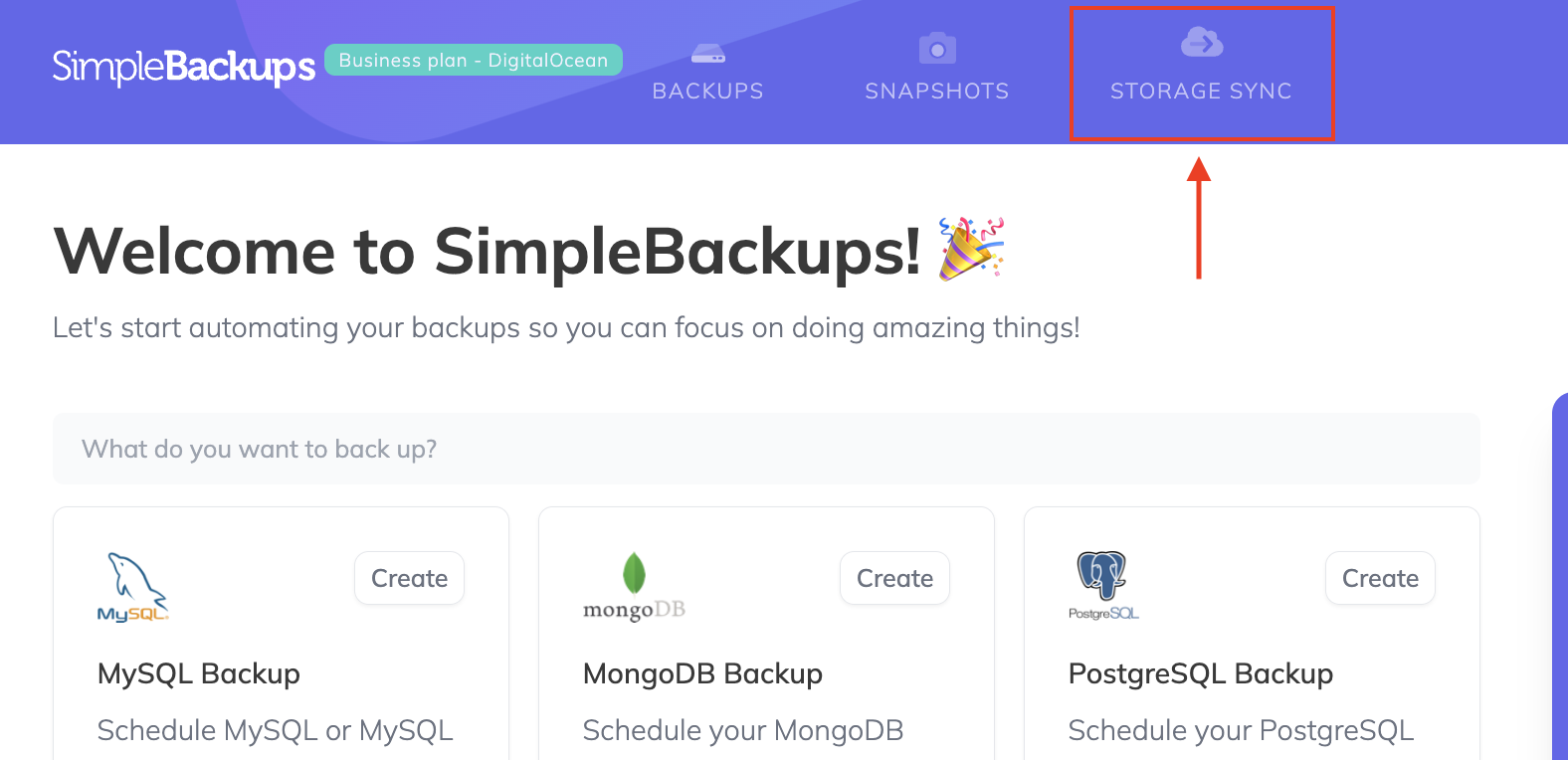 Clicking Storage Sync will take you to all the replications you've set up before.
However, in this case, we'll be setting up our first, so the list will be empty. To create a new storage replication, you'll click on Create Storage Sync +.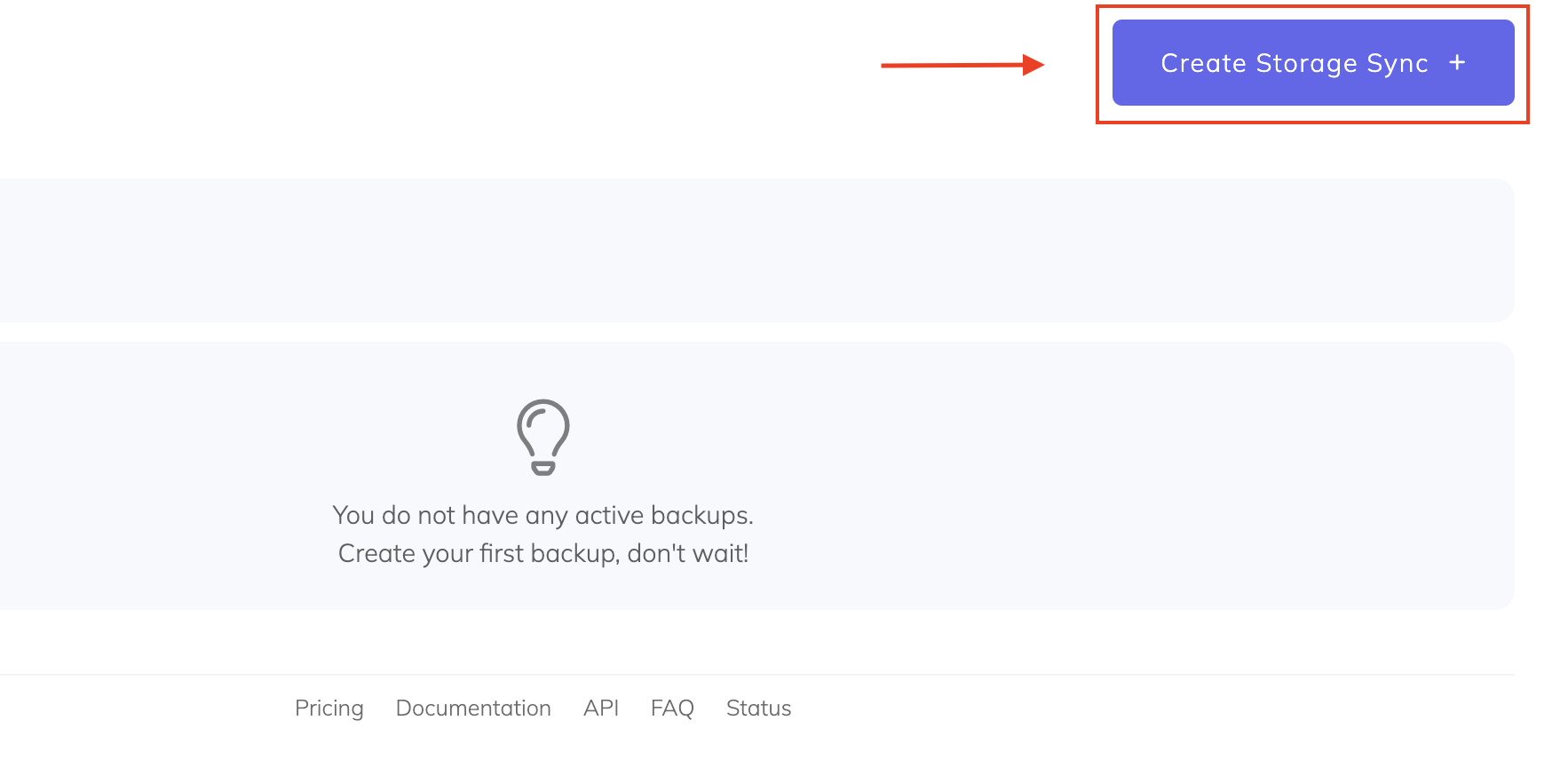 On the next screen, you'll be able to configure the sync.
The first step is choosing between Serverless, which runs on SimpleBackups's infrastructure, or Own Server, which requires that you have your own server.
In this example, we'll use Serverless. To do this, you'll make sure the Serverless box is selected and click on Enable Serverless. 

The next step is to choose when you want to run the storage replication. Here, you can choose between on-demand, daily, weekly, monthly, and custom, where you can specify backup intervals of as little as 1 minute.
Ultimately, the option you choose here will depend on your unique requirements. In this example, though, we'll choose Daily, which will replicate the storage every evening at 3 am UTC.

The next step is to set up both the Source Storage and Destination Storage.
Here, you'll either need to select a storage option that was set up previously, or you'll need to connect a new storage option.
Because, in this example, we're setting up a new replication with new storage, we'll choose Connect Storage + in both cases.

To connect DigitalOcean Spaces as a Storage Source, you'll need to select it from the dropdown list and provide the necessary details, including your DigitalOcean Spaces credentials, region, path, and the bucket you would like to replicate.
To create your credentials, you can follow the instructions we've provided here. Once you've completed all the fields, you can click on Validate.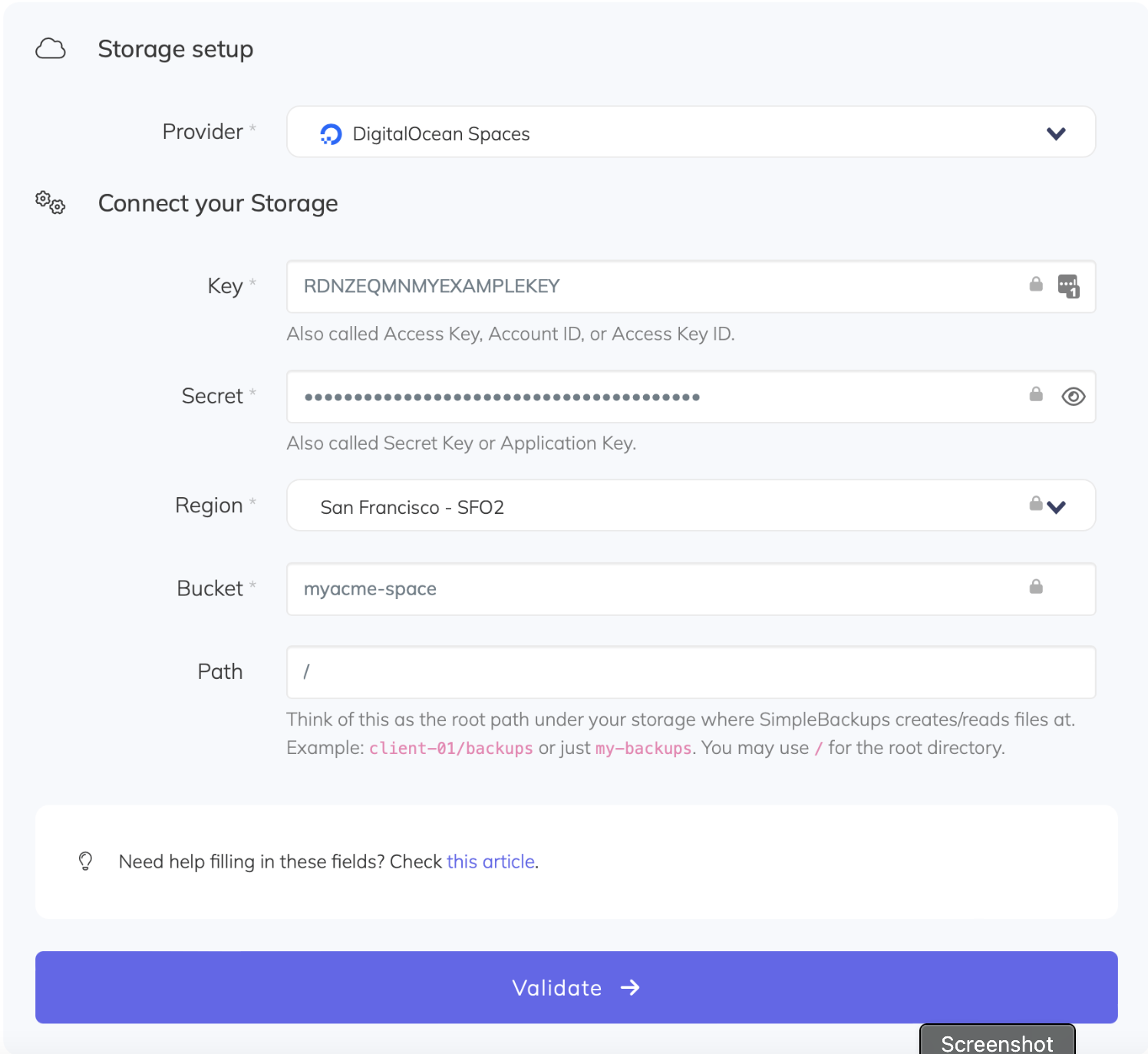 To connect AWS S3 as the Destination Storage, you'll follow the same process. As such, you'll provide your credentials, region, path, and the bucket you would like to use as destination storage. You can create your AWS S3 credentials by following the instructions we've provided here.
You'll also click Validate once you've completed all the fields.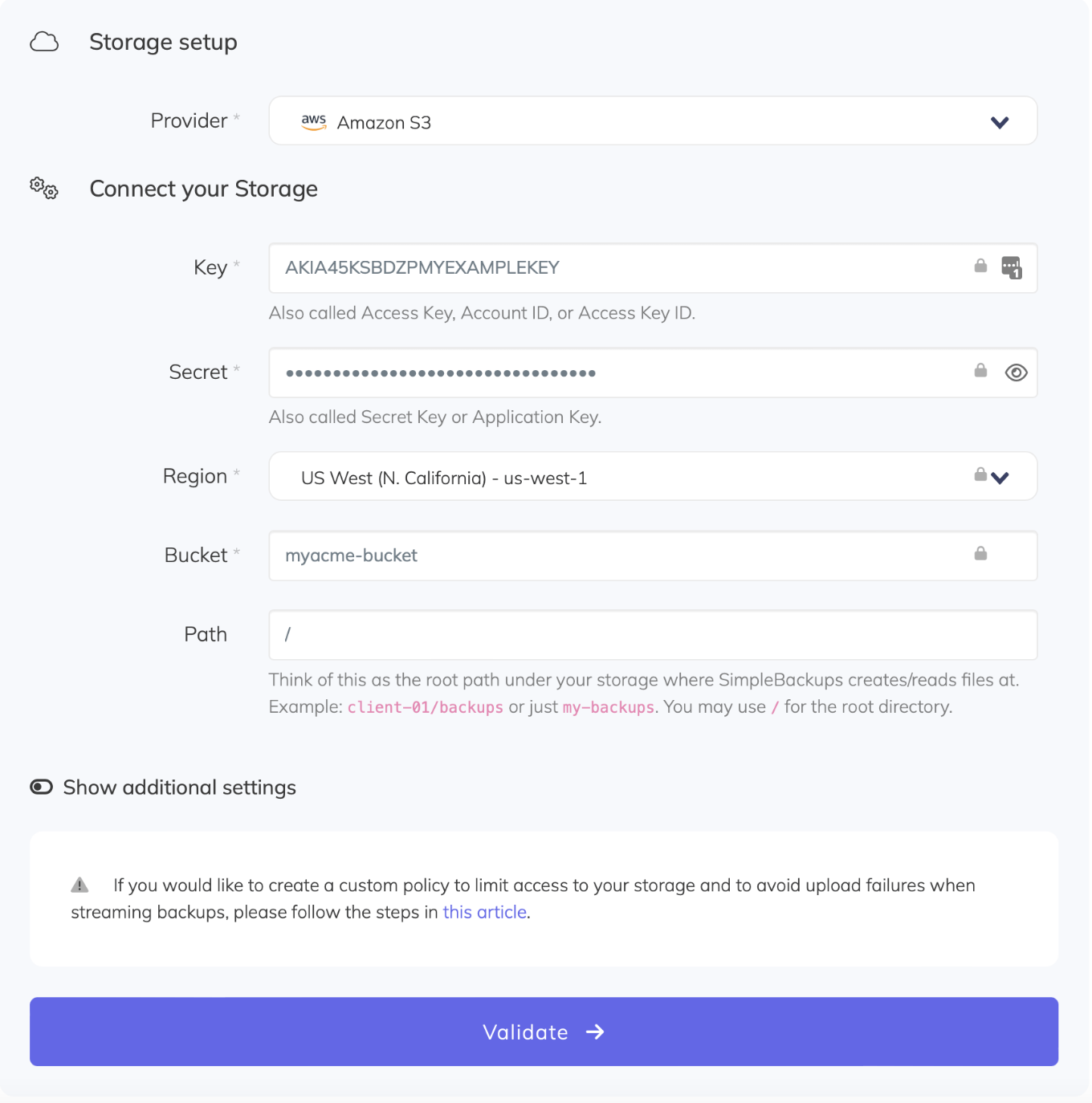 Once you've selected both storage options, you'll also need to provide the source and destination paths.
So, you'll need to select the folder on the source storage that you want to replicate and the folder on the destination storage you would like to replicate it to, if you haven't already done so. Once you've provided these paths, you can click on Validate.

Finally, once you've validated the replication as mentioned above, you can finalize and save the Storage Sync.
To do this, you'll need to provide a name for the replication in the box provided and then click on Create Storage Sync. 

A page showing the details of the storage replication you've just created will then open.
From here, you can choose to run the replication, or it can run based on the schedule you chose earlier. Every time it runs, the replication will copy content from Spaces to S3. 
Start Creating Storage Replications Now
If you want to ensure consistent data availability and access, higher server performance, and a robust disaster recovery strategy, you should replicate your storage across several providers.
When you do, you'll protect your most precious data. To get started, create your first storage replication on SimpleBackups today.