Knack's cloud-based database management platform allows you to build and access databases online through an API. Apart from databases, you can also create workflows and business process automation for almost anything you do in your business. 
Ultimately, it gives you all the tools you need to build business applications quickly and easily. 
However, the platform will house a lot of essential data since you'll use it for more than just databases. And that means you'll need backups.
In this post, we'll show you how to back up your Knack data with SimpleBackups quickly and efficiently.
What Knack Data Will You Back up?
You'll have to use the Knack API to back up your Knack data. It gives you full access to create, retrieve, update, and delete your apps' records. 
To accomplish this, you'll use Knack's object-based requests that give you full CRUD capabilities for records. This means you'll back up all the objects you've created for a specific Knack app. 
How to Back up Your Knack Data Using SimpleBackups
Step 1: Preparation
Before you back up your Knack data, you'll first need to do some prep work to get the Knack API key and your Knack Application ID. You'll use this information to read and write data to the Knack API and, as such, back up your data. 
To get this information, you'll need to log into your Knack account and go to the App that you want to back up with SimpleBackups. Here, you'll click on Settings.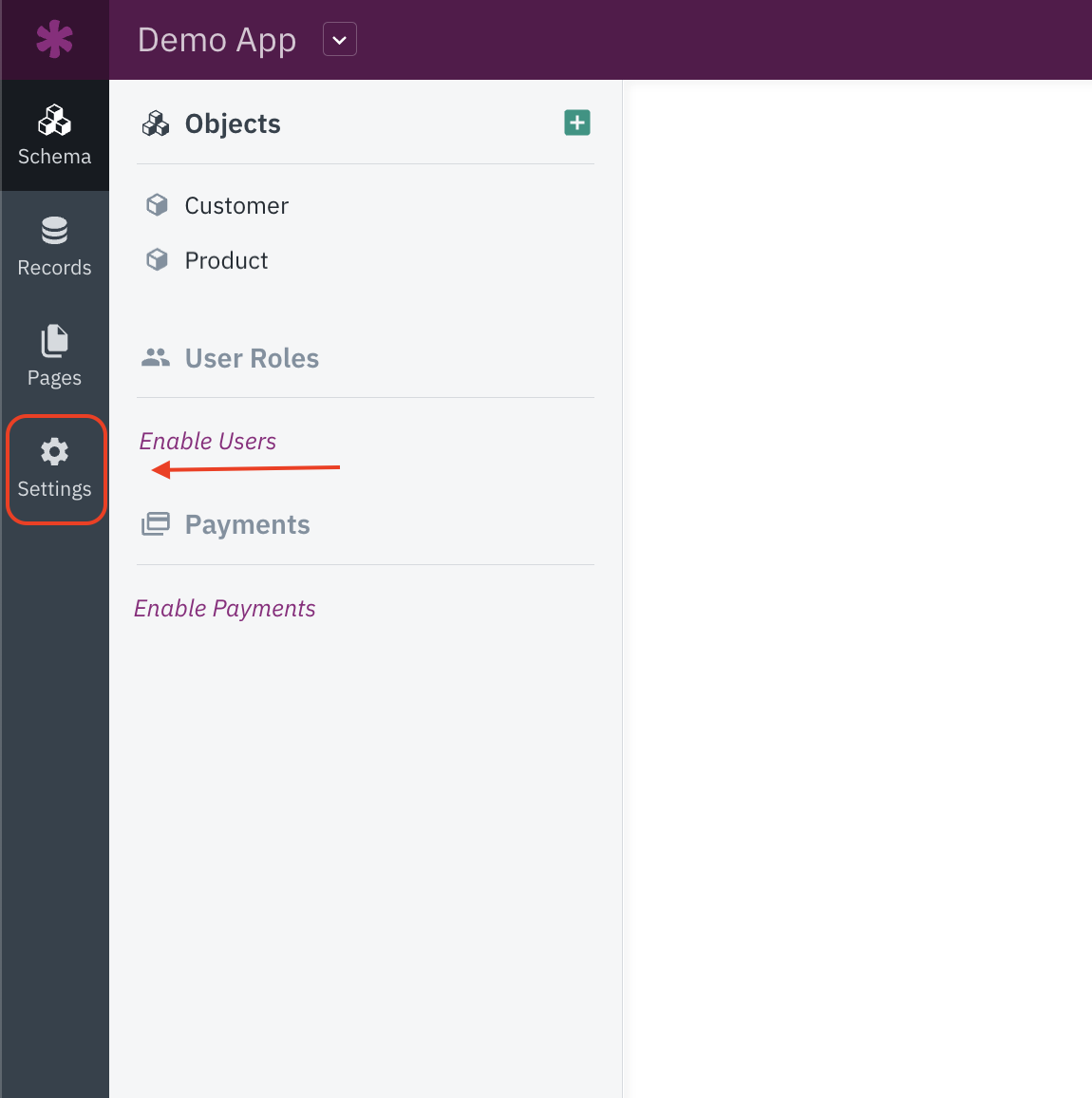 On the page that opens, you'll then click on API & Code.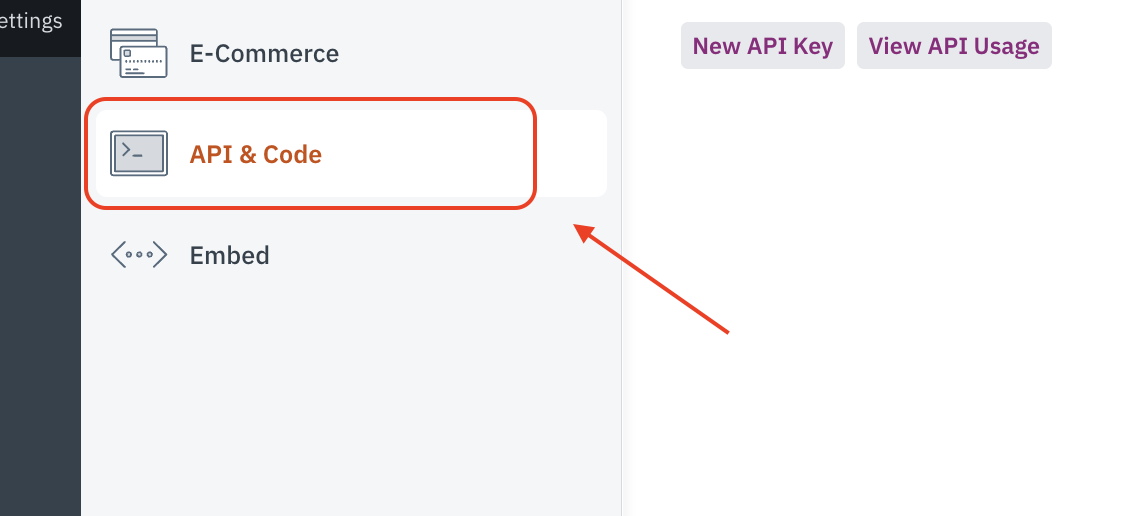 You'll then get the API key and your Application ID for using the Knack API. You should make a note of these because you'll use them to configure your backup in SimpleBackups. 
Step 2: Getting Started with Your Backup Recipe
Now that you have your API key and Application ID, you can create your backup in SimpleBackups by configuring a Knack recipe. 
The first step to do this is to log into your SimpleBackups account. On your dashboard, you'll then have a few options for creating your backup.
One of the simplest options is to scroll down to the bottom of your dashboard and then click on Create on the Knack Backup tile. If the tile isn't there, you'll need to click on Show all to show it.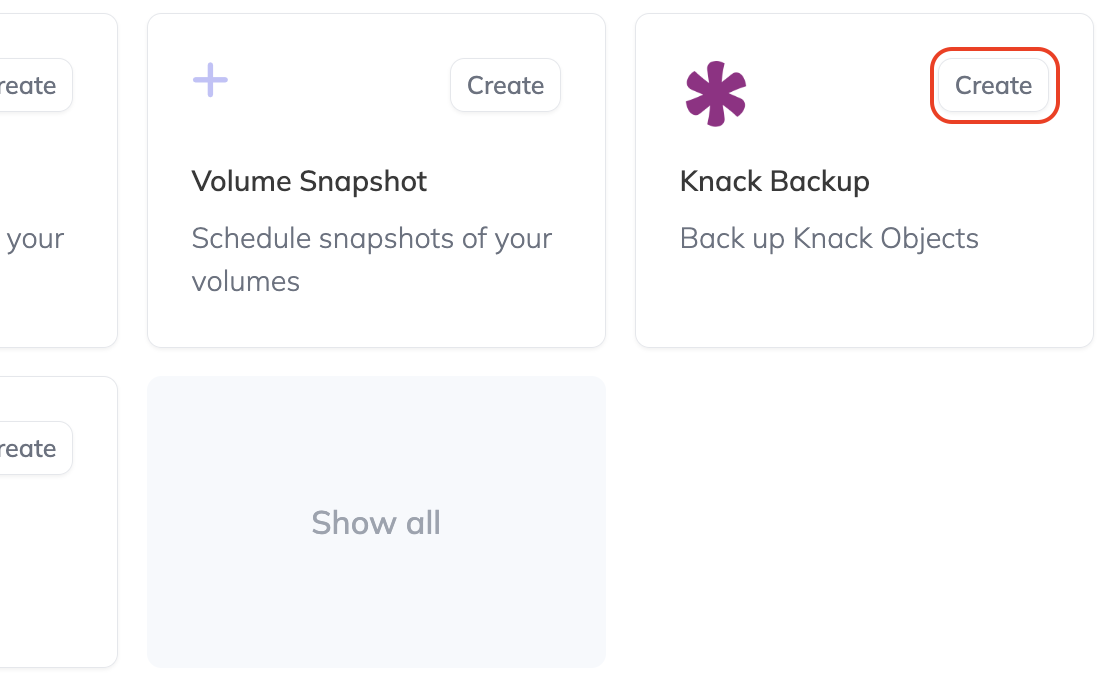 Another way is to click Backups in the top menu of your dashboard. 

On the page that opens, you'll click on Create Backup +.

Either option will take you to the screen where you can set up your Knack backup. Here, it's crucial to ensure that both the Recipe and Knack Backup tiles are selected. 
Step 3: Configuring Your Backup Recipe
Next up, configure your Knack backup recipe. This is where you'll use the credentials you gathered earlier. So, when configuring your Knack backup recipe, you'll enter your Application ID and the API key. 

As you can see, you'll also enter the object Ids of the objects you would like to back up. You can find these Object Ids by clicking on the specific object and then checking your URL. 

When you enter these Ids into SimpleBackups, you'll only enter all the number parts of the Id of all the objects you'd like to back up, separated by a comma.
So, if the Id is object_1, you'll only enter 1.
Step 4: Choose a Server
Next, you need to choose a server to run the backup. The two options you have are:
Serverless. This option lets you run the backup on SimpleBackups' equipment and store your backups off-site. The benefit here is that no setup is required, and you don't need many of your own resources. 
Own Server. As the name suggests, this option allows you to run the backup using your own infrastructure. It allows you to store backups off-site, locally, or on mounted volumes. 
We will use the serverless option in this example. To do this, we'll make sure that the right tile is selected.
You can then click Validate to ensure the connection works.

Step 5: Finishing Up and Creating Your Backup
The final step, after you've validated the connection, is to choose: 
Your storage. You can choose one of several options, including Amazon S3, DigitalOcean Spaces, Google Cloud Storage, and more. In this example, we'll use the same Dropbox we used in a few of our earlier posts. 
Retention schedule. You'll set your retention schedule to determine how long you'll keep your backups. Earlier backups will be deleted once the maximum is reached. 
Backup frequency. You can choose between daily, weekly, monthly, on-demand, or even create a custom backup schedule based on your needs and requirements. In this example, we'll use weekly backups.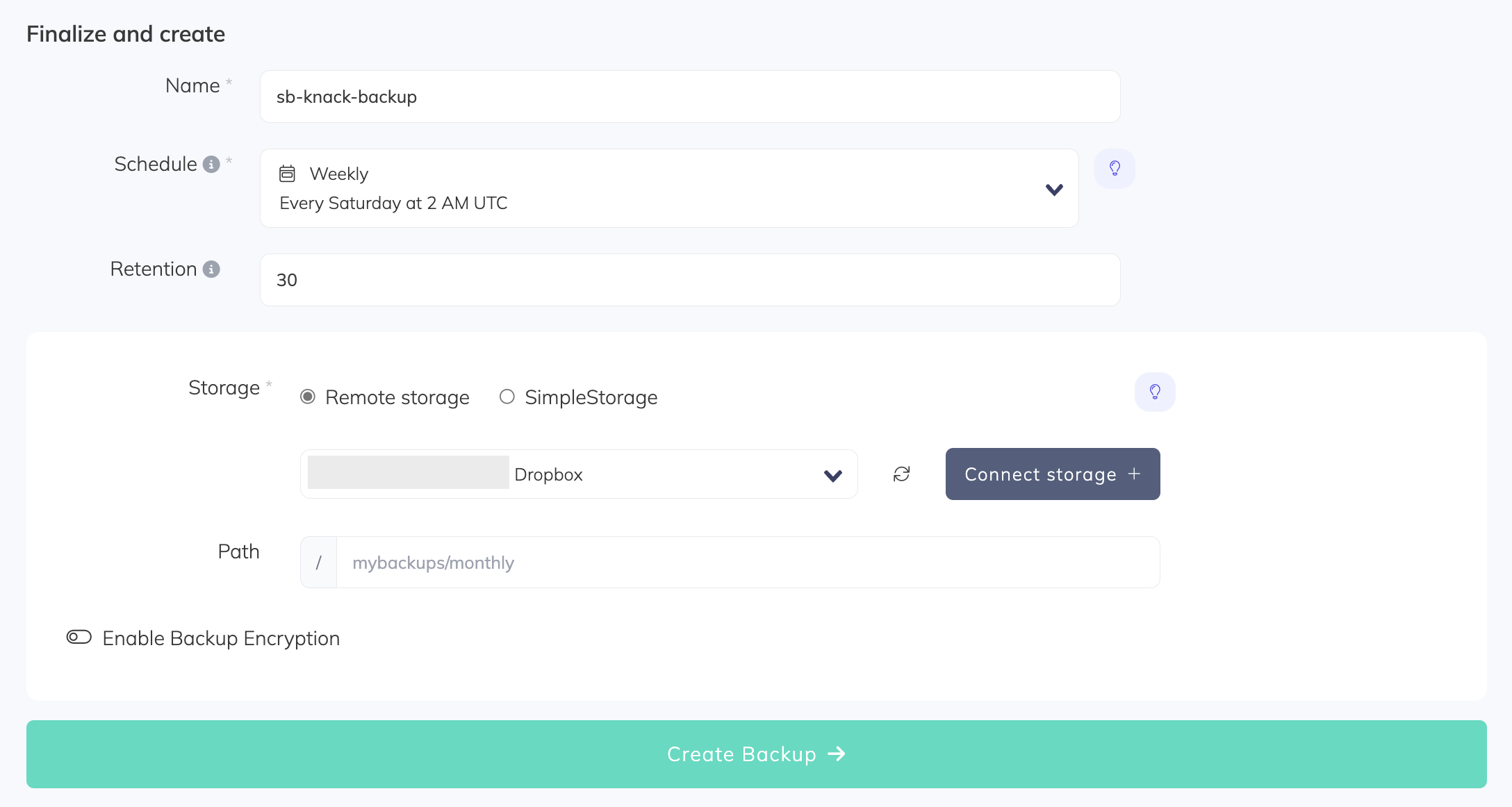 Once done, you can click on Create Backup.
It's Time You Backed up Your Knack Data Quickly and Easily
Hopefully, this post helped illustrate how you can back up your Knack data quickly and easily. But the question is: Why should you consider using SimpleBackups in the first place?
Firstly, SimpleBackups allows you to use almost any storage you'd prefer. You'll be in complete control of your data and won't be locked into a single platform. Also, when using the platform, you'll have access to various other tools that make managing your data easier, including notifications, task summaries, audit logs, and more. 
To learn more about SimpleBackups, our range of innovative features, and how our platform can help you, get started for free today.